Homemade crunchwrap Supreme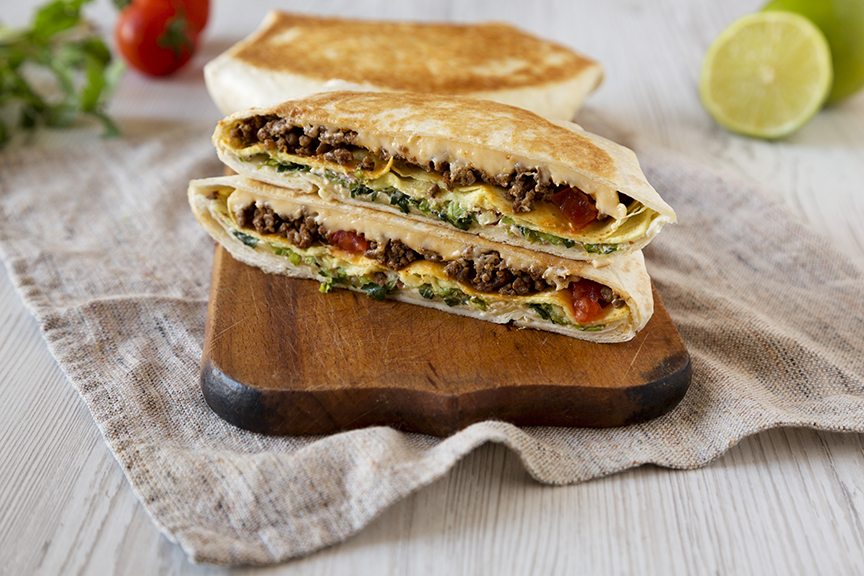 Prep + Cook time
20 minutes
Ingredients
4 Joseph's Lavash (Flax or Multigrain) or Wraps (Flax or Original)
1 pound ground beef or 2 cups of veggie grounds
1 teaspoon ground chili powder
1/2 teaspoon ground paprika
1/2 teaspoon ground cumin
Salt and pepper to taste
1/2 cup nacho cheese sauce
1 cup sour cream
1 cup chopped tomatoes
2 cups shredded lettuce
1 cup shredded cheddar and montery jack cheese
1 tablespoon vegetable oil
Directions
Prep the Filling: In a large nonstick skillet over medium heat, combine ground beef or veggie grounds and spices and season with salt and pepper. Cook, breaking up meat with a wooden spoon, until no longer pink, about 6 minutes. Drain grease and wipe skillet clean.
Fill Crunchwraps: Add a scoop of ground beef or veggie grounds to the center of 4 lavash or wraps, leaving a generous border for folding. Drizzle cheese sauce over each, then spread sour cream over each shell, then top with lettuce, tomato, and cheeses.
Fold Crunchwraps: Tightly fold edges of lavash or wrap towards the center, creating pleats. Quickly invert Crunchwraps so pleats are on the bottom and they stay together.
Cook until Brown: In the same skillet over medium heat, heat oil. Add Crunchwrap seam-side down and cook until outside is golden, 3 minutes per side. Repeat to make 4 individual Crunchwraps.
Share your own
creations with #JOSEPHSPITABREAD
Fresh
.

•


Authentic

.

•


Healthy

.