Game Day Turkey Meatball Sliders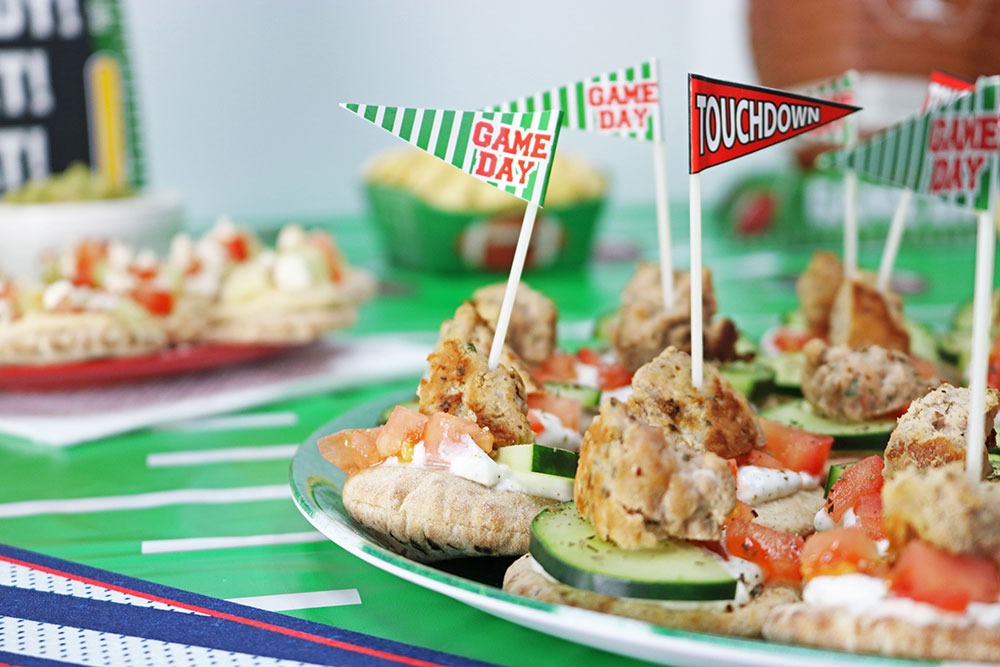 Ingredients
1 (6.5-ounce) pack Joseph's Mini Pita Snacks4 Joseph's Mini Flax, Oat Bran & Whole Wheat Pita
Turkey Meatball:
2 pounds ground turkey, 93% lean
1 cup bread crumbs, panko, or rolled oats
2/3 cup onion, minced
1/2 cup fresh parsley, minced
2 large eggs
3 cloves garlic, minced
2 teaspoons Worcestershire sauce
1/2 teaspoon dried basil
1/2 teaspoon dried oregano
1 teaspoon salt
1/2 teaspoon freshly ground black pepper
1/4 cup olive oil
Sliders:
1 (12-ounce) container of tzatziki
1 large cucumber, cut in half lengthwise and sliced into half moons
1 on-the-vine tomato, finely diced
Dried basil to taste
Pinch of black pepper
Directions
Turkey Meatballs:
In a large bowl, combine the turkey, bread crumbs, onion, parsley, eggs, garlic, Worcestershire sauce, basil, oregano, salt, and pepper. Mix well.
Shape the mixture into 1-inch balls (you should have around 48 total).
Preheat oven to 400 degrees F. Line a rimmed baking sheet with foil for easy cleanup. Coat a wire rack with nonstick cooking spray and set it on top of the prepared baking sheet.
Arrange the meatballs on the rack, brush with the oil, and bake until browned with crispy, 15 to 20 minutes.
Sliders
Spread the tzatziki onto each pita.
Place a cucumber slice on each pita; it should take up about half of the pita.
On the other half, place a few diced tomatoes.
Place meatball on top in the middle, overlapping the cucumber and tomato. Secure with a toothpick.
Sprinkle with dried basil and black pepper to taste.
Pro Tip: This recipe makes extra meatballs. Freeze the rest, and enjoy throughout the week!
Share your own
creations with #JOSEPHSPITABREAD
Fresh
.

•


Authentic

.

•


Healthy

.