Arugula Prosciutto Flatbread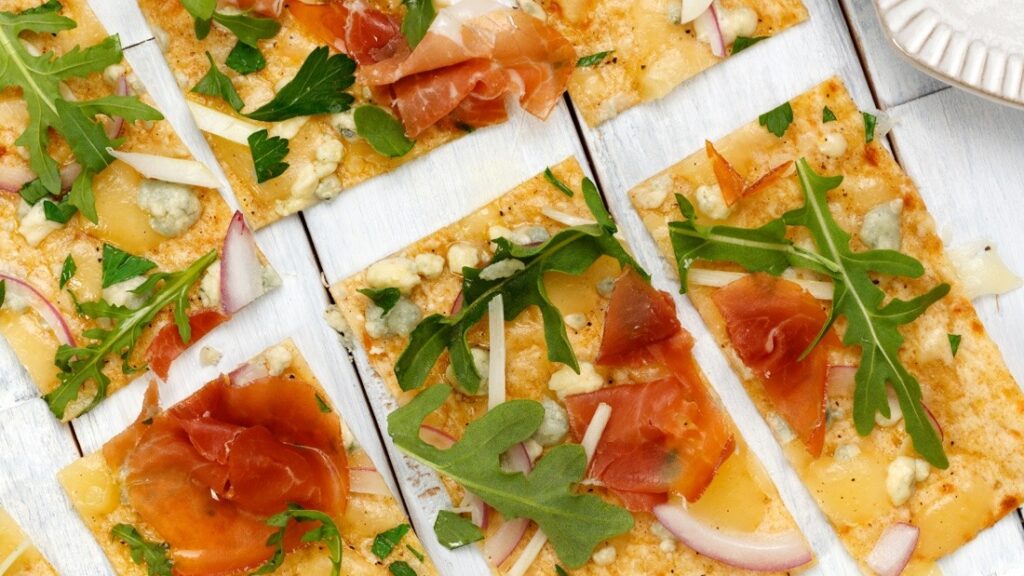 Ingredients
1 Joseph's Honey Wheat Lavash
2 tablespoons extra-virgin olive oil
About 2 ounces grated fontina cheese
Handful of baby arugula (about 3/4 cup)
1 bulb fennel, halved, cored, and thinly sliced
Handful of roughly chopped fresh parsley
1 red onion, thinly sliced
Balsamic vinegar
Kosher salt and freshly ground pepper to taste
4 pieces thinly sliced prosciutto, torn
About 2 ounces crumbled gorgonzola or other blue cheese
Directions
Preheat oven to 350 degrees F.
Lightly brush the lavash on both sides with olive oil.
Bake in the oven for two minutes.
Remove from the oven and flip over.
Top with fontina and place back in oven for two additional minutes.
Combine the arugula, fennel, parsley, onion, 1 tablespoon of the olive oil, vinegar, and salt and pepper. Mix well.
Top the baked lavash with the arugula mixture, prosciutto, and blue cheese, and serve.
Share your own
creations with #JOSEPHSPITABREAD
Fresh
.

•


Authentic

.

•


Healthy

.