Fish Tacos with Gluten Free Wraps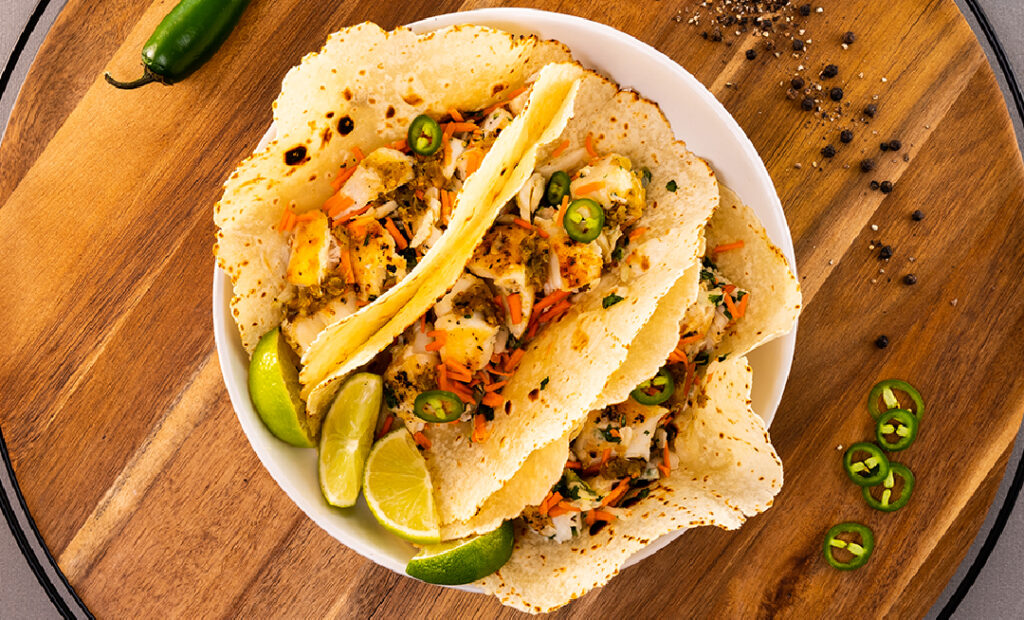 Prep + Cook time
20 minutes
Ingredients
1 package of Joseph's Gluten Free Original Wraps
2 cups of coleslaw mix
1/2 cup of cilantro
1 tablespoon of jalapeno peppers
2 tablespoons of rice wine vinegar
1 pound of white fish
Olive oil
Salt & pepper to taste
3/4 cup of mayo
2 limes
2 teaspoons of taco seasoning
Salsa verde
Directions
In a small bowl, mix together chopped cilantro, coleslaw mix, rice wine vinegar, 1 teaspoon of salt and a sprinkle of pepper. Set aside.
In another small bowl, add mayonnaise, taco seasoning and a teaspoon of lime juice. Stir to combine.
Sprinkle salt and pepper on your filets of fish. Add a drizzle of olive oil to a pan and heat on medium heat. Cook fish all the way through – time will vary depending on the thickness, but about 3 to 5 minutes per side.
Warm your Joseph's Gluten Free Original Wraps on the stove stop for about 5 seconds on each side at medium heat.
Flake your fish and assemble your tacos. Add the fish in the center, coleslaw mix on top, mayo mixture, sliced jalapenos, salsa verde and a squeeze of lime on top as desired. Transfer to individual plates and enjoy!
Share your own
creations with #JOSEPHSPITABREAD
Fresh
.

•


Authentic

.

•


Healthy

.