Fattoush Salad with homemade pita chips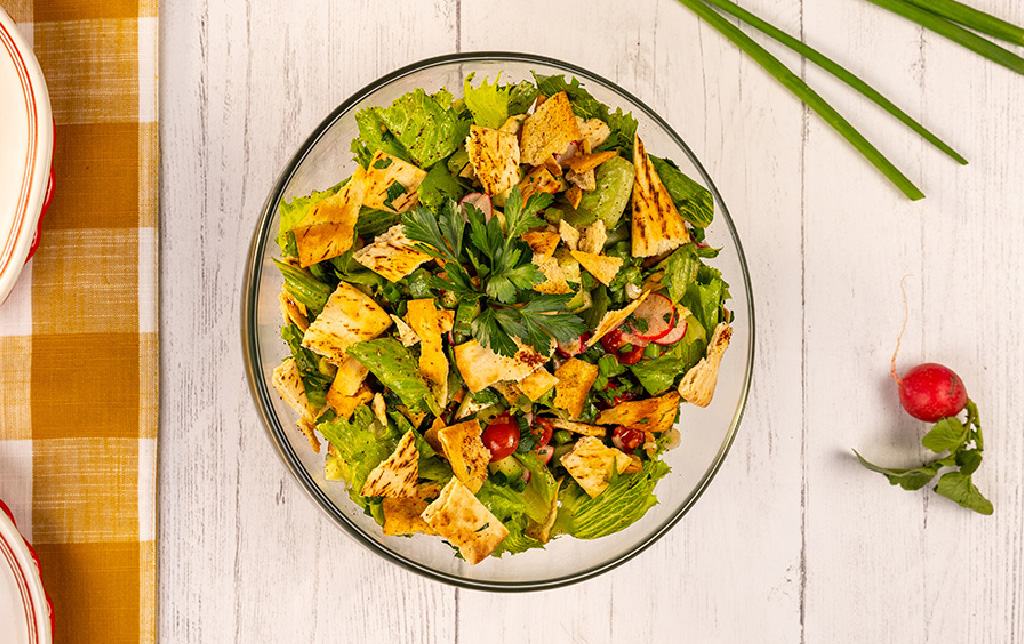 Prep + Cook time
20 minutes
Ingredients
2 Joseph's Pita Bread (Flax or Original)
Ground sumac (or other spice blend like Za'atar)
Olive oil spray
Salt and pepper
1 Heart of romaine lettuce, chopped
1 English cucumber, chopped
5 Roma tomatoes, chopped
5 Green onions (both white and green parts), chopped
5 radishes, stems removed, thinly sliced
1 cup chopped fresh parsley leaves, stems removed
1 cup chopped fresh mint leaves
Juice of 1 lime
1/3 cup of Olive Oil
Pinch of ground cinnamon
Pinch of ground allspice
Directions
Create the pita chips: Preheat the oven to 350°F. Slice each pita bread into triangles with a pizza cutter. Pile the pita pita wedges on to a cookie sheet and spray with olive oil. Season with salt, sumac and any other spices you would like. Bake until golden, around 10 minutes.
In a large mixing bowl, combine the chopped lettuce, cucumbers, tomatoes, green onions with the sliced radish and parsley.
To make the salad dressing, whisk together the lime juice, olive oil and add spices in a small bowl. Use 1 tsp of sumac, a pinch of cinnamon and allspice.
Add the salad dressing and toss lightly. Finally, add the pita chips and more sumac spice to taste and toss one more time. Transfer to smaller serving bowls and enjoy!
Share your own
creations with #JOSEPHSPITABREAD
Fresh
.

•


Authentic

.

•


Healthy

.