Crispy Lavash Harvest Bowl Recipe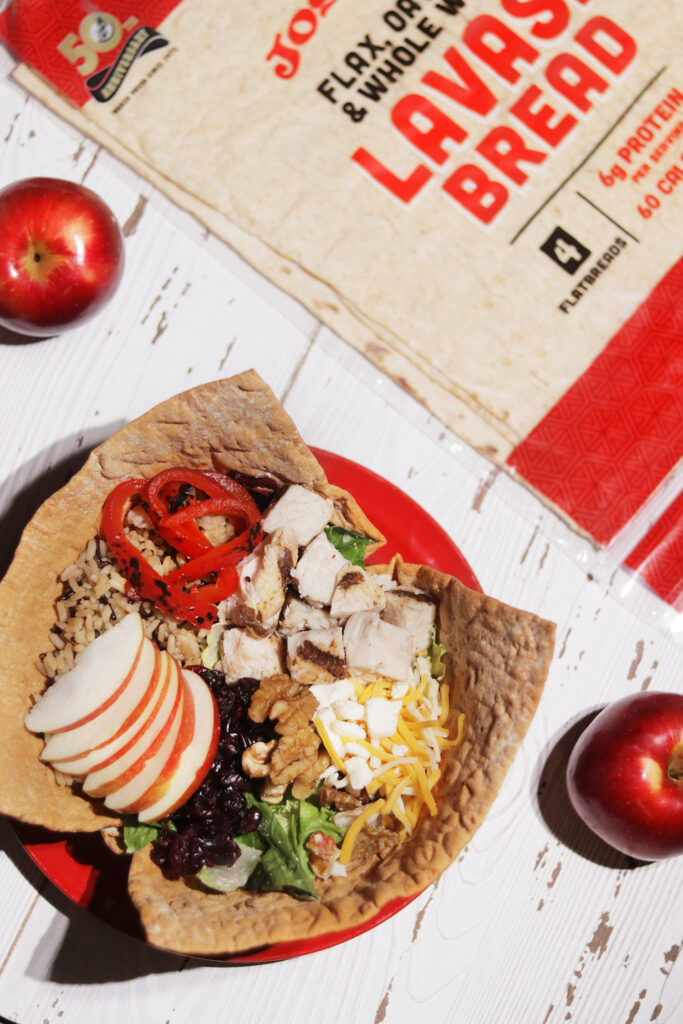 Prep + Cook time
30 minutes
Ingredients
1 flatbread of Joseph's Flax Lavash
1 cup of brown rice
1/2 cup of mixed greens
1 grilled chicken breast, diced
1/2 medium apple, sliced
1/4 cup of roasted walnuts
1/4 cup of dried cranberries
1/4 cup of shredded cheese
1/4 cup of roasted red peppers
Salt & pepper
Olive Oil
Optional: Balsamic Dressing
Turn Joseph's Flax Lavash into a crispy bowl that can be filled with a variety of ingredients. This Crispy Lavash Harvest Bowl recipe is the perfect fall lunch. Quick, easy, and packed full of protein and flavor. All in 30 minutes. Don't forget to share your recreations with us on instagram and tag us!
Directions
Preheat the oven to 350° F
Lay one flatbread of Joseph's Flax Lavash on counter. Spray both sides with cooking spray. Place in oven safe bowl, forming the flatbread with the curvature of the bowl. Use additional cooking spray to reinforce the interior edges.
Place bowl on baking sheet, baking in oven for 8 to 10 minutes, or until golden brown and crisp.
On stovetop: heat a grill pan on medium heat. In a second sauce pan, cook brown rice per directions on package.
In another bowl, add olive oil, salt, pepper, and chicken breast.
Add chicken breast to preheated grill pan cooking 2-3 minutes per side.
Once chicken breast is cooked through (165 degrees), place on cutting board and dice into cubes.
Take your crispy lavash bowl and fill with brown rice, mixed greens, sliced apple, roasted walnuts, dried cranberries, shredded cheese, roasted red peppers, and season with salt & pepper to taste.
Enjoy!
Quick Tip: Swap out brown rice with quinoa, or use a mixture of the two, for added protein!
Share your own
creations with #JOSEPHSPITABREAD
Fresh
.

•


Authentic

.

•


Healthy

.