CArne Asada Tacos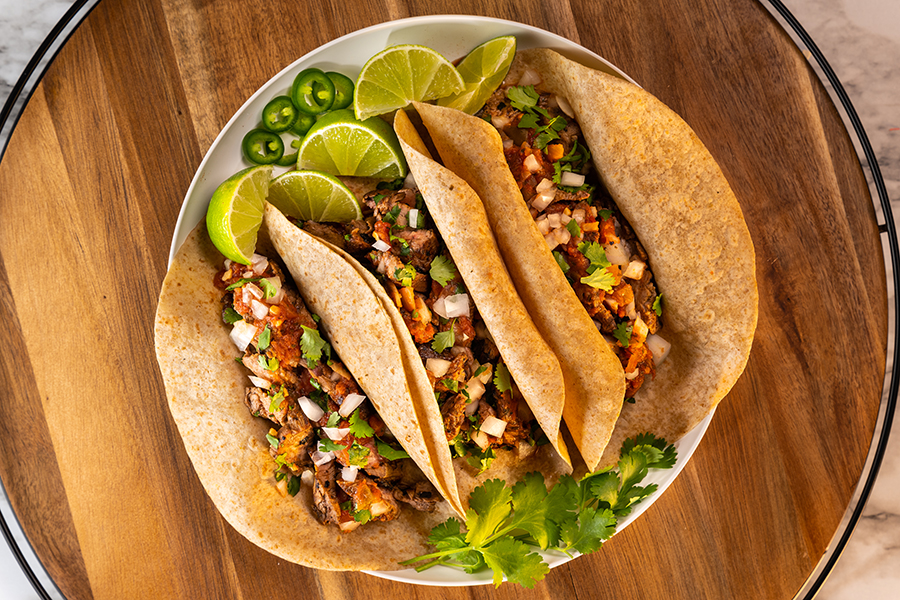 Prep + Cook time
35 minutes
Ingredients
1 package of Joseph's Flax Wraps
1 bunch of cilantro chopped
1 spanish onion chopped
1 lime juiced
3 cloves of garlic minced
1 teaspoon of cumin
1/2 teaspoon of salt
1/2 cup of chili sauce
2 pounds of flank or skirt steak
Salsa as desired
Directions
Preheat your oven to 250 degrees F. Chop your onion, cilantro, mince your garlic and juice your lime.
Make the marinade: add garlic, cumin, salt, lime juice, and chili sauce to a small bowl and whisk together to combine. Pour and brush marinade over steak and let marinate for 30 minutes at room temperature.
Grill your steak on your stovetop or on an outdoor grill until desired cook through – we recommend 7 to 10 minutes on each side at a high heat.
Add your Joseph's Flax Wraps to the hot oven in a damp towel for 5 minutes to warm them up.
Once done cooking the meat, let it rest for 10 minutes and cut against the grain in 1/2 inch strips.
Assemble your tacos with the steak, salsa, onions and a sprinkle of cilantro. Squeeze extra lime juice on top if desired. Transfer to individual plates and enjoy!
Share your own
creations with #JOSEPHSPITABREAD
Fresh
.

•


Authentic

.

•


Healthy

.