Grilled Shrimp Tacos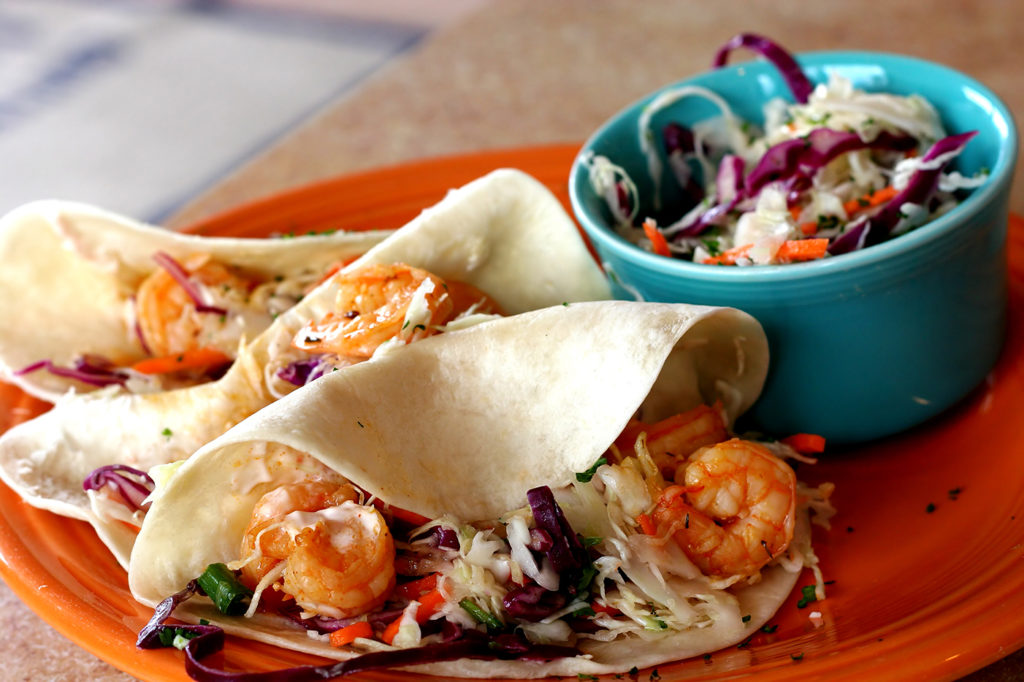 Ingredients
4 Joseph's Original Gluten Free Wraps
Grilled Shrimp:
1/2 cup lime juice
1 tablespoon olive oil
2 teaspoon chili powder
1 pound raw shrimp
Chipotle Sauce:
½ cup mayonnaise
1 ½ chipotles in adobo sauce, minced
1 ½ teaspoon honey
1 teaspoon lime juice
Salt to taste
Cabbage Slaw
4 cups shredded red cabbage
½ cup sliced scallions
½ cup chopped fresh cilantro
1 tablespoon white vinegar
Salt to taste
Directions
In a bowl, whisk together the lime juice, oil, and chili powder. Add the shrimp and chill until ready to grill.
Preheat the grill to medium. Brush the grill grate with oil.
Make the chipotle sauce by whisking together the mayonnaise, chipotles, honey, and lime juice. Season with salt, and chill until ready to serve (or up to 2 days).
Make the cabbage slaw by combining the cabbage, scallions, cilantro, and vinegar. Season the slaw with salt, and chill until ready to serve (or up to 1 hour).
Thread the shrimp onto four metal skewers.
Grill the shrimp skewers, covered, for 2 to 3 minutes per side.
Lay out the wraps and evenly divide the slaw and shrimp among them. Drizzle with Chipotle Sauce, and serve.
Share your own
creations with #JOSEPHSPITABREAD
Fresh
.

•


Authentic

.

•


Healthy

.