GRILLED PORTOBELLO PITA FAJITAS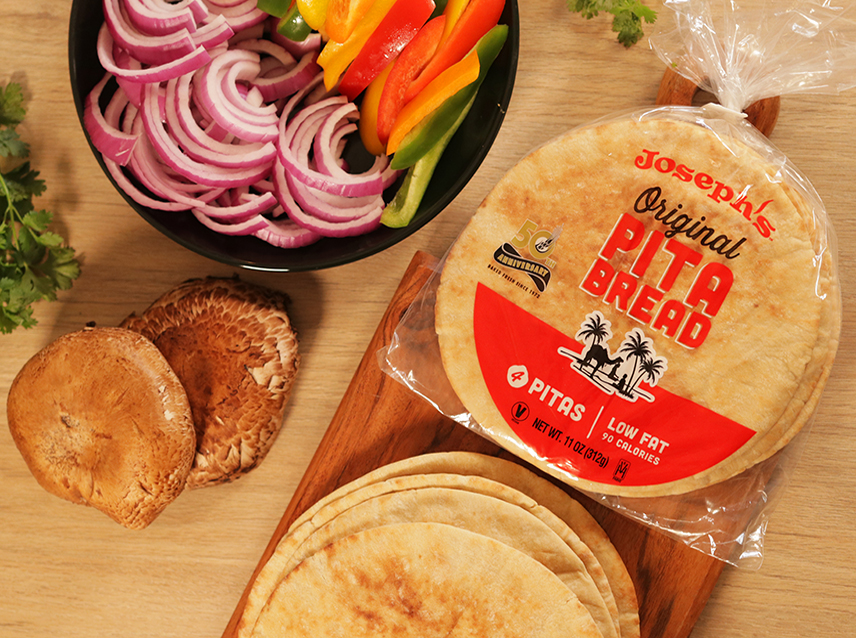 Prep + Cook time
30 minutes
Ingredients
1 package of Joseph's Original Pita Bread
1 medium green bell pepper
1 medium orange bell pepper
1 medium yellow bell pepper
1 medium red onion
2 large mushrooms (of your choice; we chose portobello mushrooms)
2 tablespoons of extra virgin olive oil (EVOO)
2 tablespoons of chili powder
1/2 tablespoon of paprika
1/4 teaspoon of garlic powder
1/4 teaspoon of onion powder
1/4 teaspoon of cumin
Few dashes of cayenne pepper
Pinch of red pepper flake
Salt & pepper
1/2 Lime
Optional: Cilantro
Directions
To prep for this grilled portobello pita fajita recipe, start by cutting peppers, onions, and mushrooms into slices.
Heat 1 1/2 tablespoon of extra virgin olive oil (EVOO) in cast iron skillet on stovetop.
For the seasoning: combine chili powder, paprika, garlic powder, onion powder, cumin, cayenne, salt, pepper, and red pepper flake into small mixing bowl. Whisk together and set aside.
When cast iron skillet is hot, add sliced onions and peppers. Mix with wooden spoon, cooking until you see that they are browning and charred. Remove from skillet.
Add 1/2 tablespoon of EVOO to skillet. Add mushrooms, cooking until brown.
Add seasoning mixture to mushrooms, stirring until coated.
Add back the onions and peppers to the skillet to finish cooking (about 5 minutes).
Remove skillet from stove top. Optional: Add cilantro for garnish.
Serve by adding vegetable mixture onto Joseph's Original Pita. Squeeze of lime to finish.
Share your own
creations with #JOSEPHSPITABREAD
Fresh
.

•


Authentic

.

•


Healthy

.