Autumn Pear & Squash Lavash Galette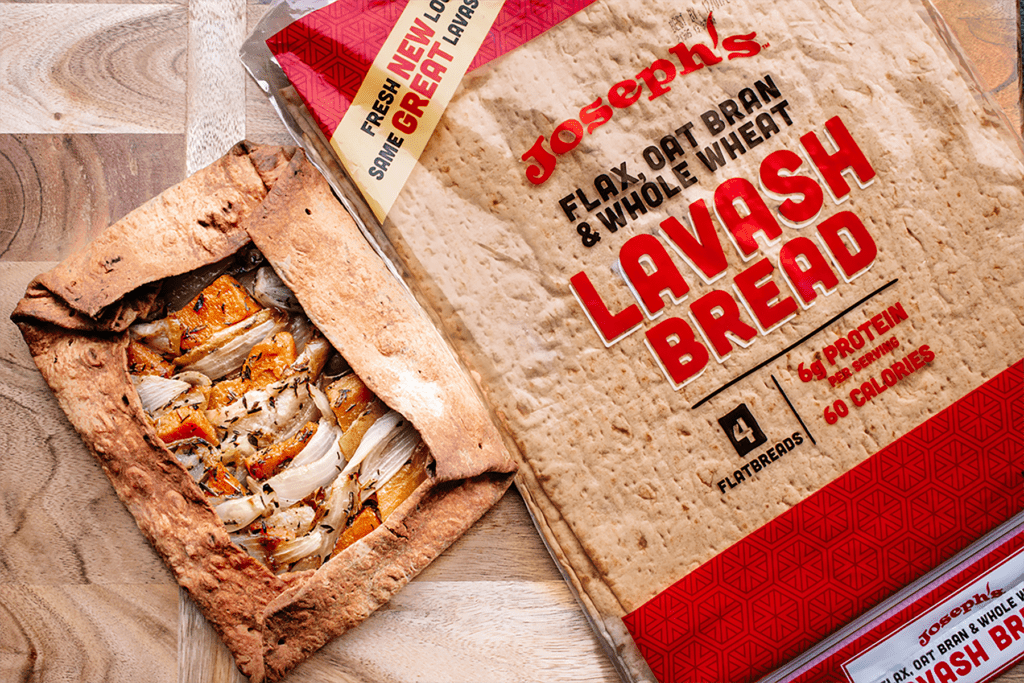 Prep + Cook time
1 hour 15 minutes
Ingredients
1 package of Joseph's Flax Lavash
1 medium pear (or substitute apple)
1/2 medium butternut squash (halved, seeded)
1 small yellow onion
3 tablespoons unsalted butter (melted)
2 teaspoons chopped fresh rosemary leaves
2 teaspoons chopped fresh thyme leaves
Salt & pepper
2 tablespoons whole-grain mustard (or substitute with stone ground mustard, yellow or spicy mustard)
Optional: 1/3 cup of crumbled blue cheese
Directions
Preheat the oven to 400° F
For the filling: Halve and core the pear. Cut each ½ into 8 wedges and put them in a large bowl. Cut the butternut squash and the onion into wedges, similar in size to the pear slices. Add to the same bowl. Add the butter, rosemary, and thyme, and toss to combine. Season with salt and pepper and toss again.
Pour the filling onto a baking sheet and roast in the oven until the pears, squash, and onions are tender and caramelized, about 45 minutes. Let cool for 5 minutes outside of the oven. Reduce oven to 350° F
Put one piece of lavash on a new baking sheet, and brush with mustard. About one inch from the edges, alternate pieces of the roasted pear, squash and onion in three lines. If you have extra pieces, repeat this process on a second lavash. Fold each side of the filled lavash toward the filling with each corner pleated at an angle. Sprinkle crumbled blue cheese on top if desired.
Bake until the lavash is golden brown, about 5 minutes. Cool the galette briefly on a wire rack. Cut into wedges and serve.
Share your own
creations with #JOSEPHSPITABREAD
Fresh
.

•


Authentic

.

•


Healthy

.