Classic Pita Bread Stuffing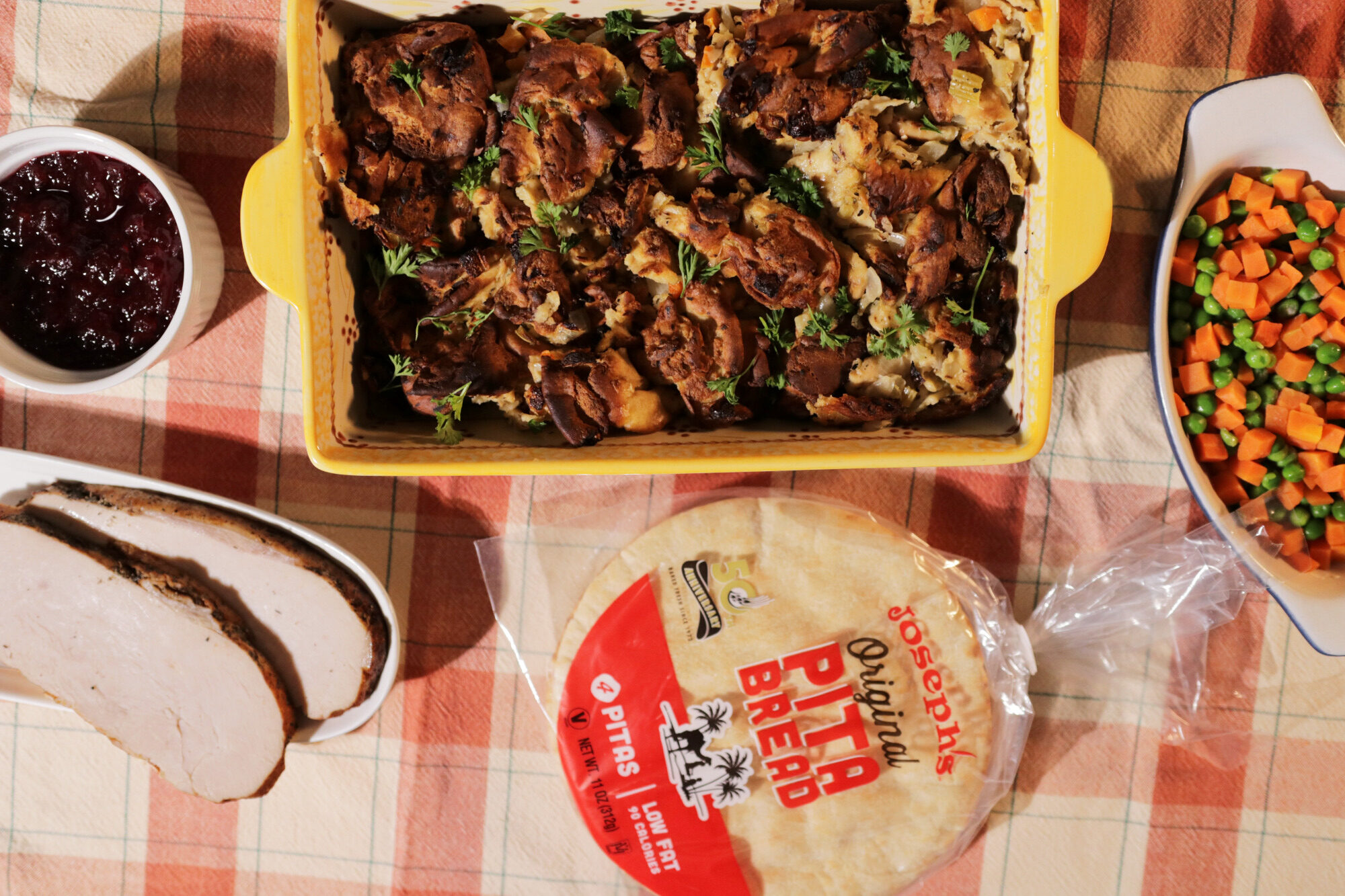 Prep + Cook time
2 hours (1 hour baking time)
Ingredients
2 Packages of Joseph's Original White Pita Bread (8 pitas total)
1/2 cup olive oil
8 tablespoons (1 stick) of butter – salted or unsalted
8 garlic cloves
1 large yellow onion
kosher salt and freshly ground black pepper
2 cups celery, diced
2 cups carrots, diced
1 cup dry white wine (or 1/4 cup white vinegar)
2 1/2 cups of low-sodium chicken or vegetable stock
3 large eggs
2 tablespoons of dried oregano or thyme
Directions
Bread prep: The night before, tear all 8 Joseph's Original White pitas into 2 inch irregular pieces, placing them on sheet pans to dry out. If making day of, you can preheat your oven to the lowest possible temperature (150 to 200 degrees), and dry out pitas for about an hour and a half (until just crispy but not browned).
Preheat oven to 375 degrees.
In large skillet, combine olive oil and butter. Once butter has melted, add onions and garlic. Season with salt and pepper, cooking until onions are soft and translucent.
Add celery, stirring until bright green and tender. Add white white and cook until reduced by half.
In large mixing bowl, whisk together eggs and broth. Toss dried pita bread with egg mixture until all liquid is absorbed by every pita.
Add celery and onion mixture to bread evenly. Transfer mixture to baking dish.
Cover with foil and bake for 45 minutes, until completely cooked through.
When ready to serve, remove foil and bake again at 425 for 25 minutes to brown and crisp the top.
Transfer to plate and enjoy!
Share your own
creations with #JOSEPHSPITABREAD
Fresh
.

•


Authentic

.

•


Healthy

.